Bulk Domain Adding
Overview
The bulk domain adding feature provided by DNSPod enables you to add multiple domains at a time.
Prerequisites
Log in to the DNSPod console.
On the left sidebar, select DNS > Bulk Management to enter the bulk management page.
Directions
Adding domains
On the Add Domain page, select Enter domain names as shown below: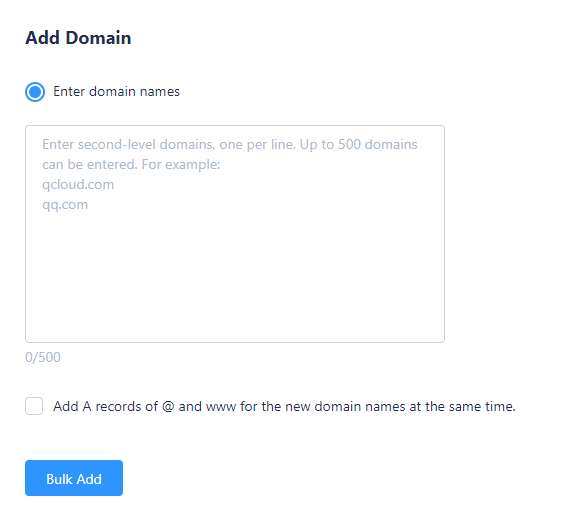 2. Enter or paste up to 500 domains that you want to register in the text box.
Note:
If you enter more than 500 domains, you will be unable to proceed.
You can select Add A records of @ and www for the new domain names at the same time. and enter values in the input box as shown below: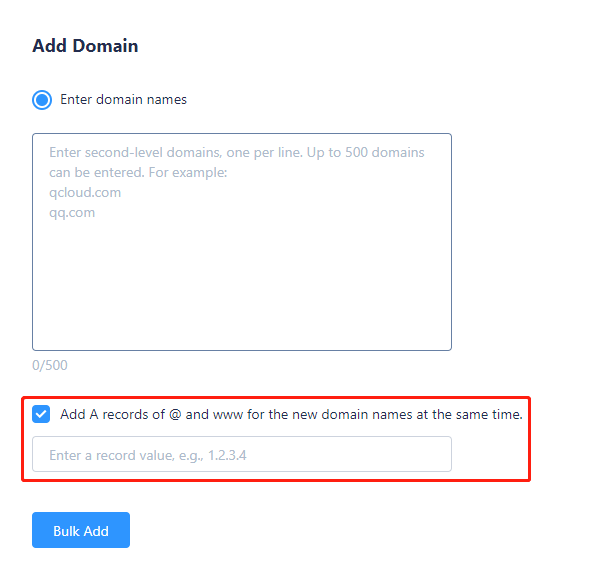 Click Bulk Add.
Viewing operation logs
On the Bulk Management page, select the Operation Logs tab and click the task name to view the operation result as shown below:

Last updated on 2021-01-27 07:05
Is the above content helpful to you?
Helpful
Unhelpful
Can't find what I need
Update is not timely
Difficult to understand
Typo/invalid link
Steps are incomplete
Missing images/sample codes
Submit
DNS health check tool powered by DNSPod
查询域名信息,快速排查网站问题
Official WeChat group
Join WeChat group to chat and feedback